The building has a single nave and a large square East End where the sacristy is attached. The church was built with granite and slate masonry. Even though it was renovated in modern times, it still conserves Romanesque elements. This is the case of the north wall and the blind doorway composed of a round arch. Next to the doorway, there are two pillars with partially covered inscriptions, undiscovered up until now. The eastern façade seems to be complete and it conserves slabs that could have originated in the 12th century. Next to it, there is a carved ashlar which was probably a Roman funerary stele.
Along the stairway that goes up to the bell cote, built in 1908, there is a white ashlar, probably marble, which has an inscription that refers to the date of construction of the church.
The interior lacks Romanesque elements except for the north door composed of a round arch. Interestingly enough, it follows a scheme that leans more toward a monumental style than the habitual simplistic style characteristic of these churches. It follows along the same lines as the doorway on the exterior, so it is possible that this doorway was one that previously existed on the south wall and at some point in time was moved and used as a vaulted niche. In spite of the destruction that Romanesque church suffered and the few remains that it conserves, we can deduce that it was a very significant church. This is very unusual in the region of Aliste.
Interventions
The intervention of the Church of Our Lady of the Assumption of Pobladura de Aliste has started work to restore the original Romanesque façade located on the north wall of the temple, near the cemetery. The work focuses on the opening of the central hole of the door, which until now has been walled up. Once reopened, a steel and alabaster structure will be installed to allow light to enter the nave. This will improve the artistic and historical interpretation of the building, recuperating any lost historical value as well as recovering the original configuration of a door whose decoration and monumentality is a rare testimony within the architectural simplicity of this part of the province of Zamora.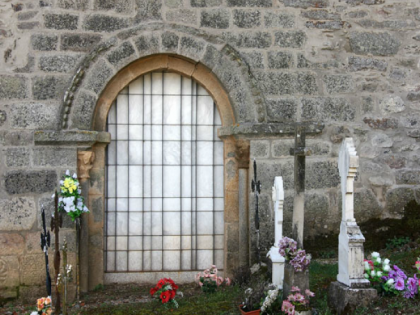 Lighting
The intervention will continue with the renovation and modernization of the electrical installation of the temple, placing new energy-efficient lights with hidden wiring to reduce its visual impact. Besides being more efficient and sustainable, the new points of light will enhance the illumination of artistic features of the temple, such as the high altar, the presbytery and baptismal fonts.